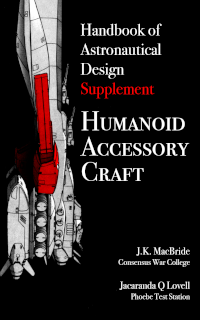 🔗
Handbook of Astronautical Design Supplement: Humanoid Accessory Craft
By:
J.K. MacBride (Consensus War College)
Jacaranda Q Lovell (Phoebe Test Station)
Publisher:
McGraw-Asteroid
Publication:
2454
Categorization:
Military - Weapons - Space/General, Space - Architecture, Ergonomics
Format
Perfect-bound paperback.
MacBride's Handbook of Astronautical Design is widely regarded as one of the foundational texts of intrastellar spacecraft design. MacBride partners with Jacaranda Q Lovell, testing head of the Phoebe Test Station, in this supplement focusing on integrating humaniform support craft in astronautical vessels. Drawing from more than a century of combined experience in spacecraft ergonomics and structure, this book is a must-read for any naval shipwright.