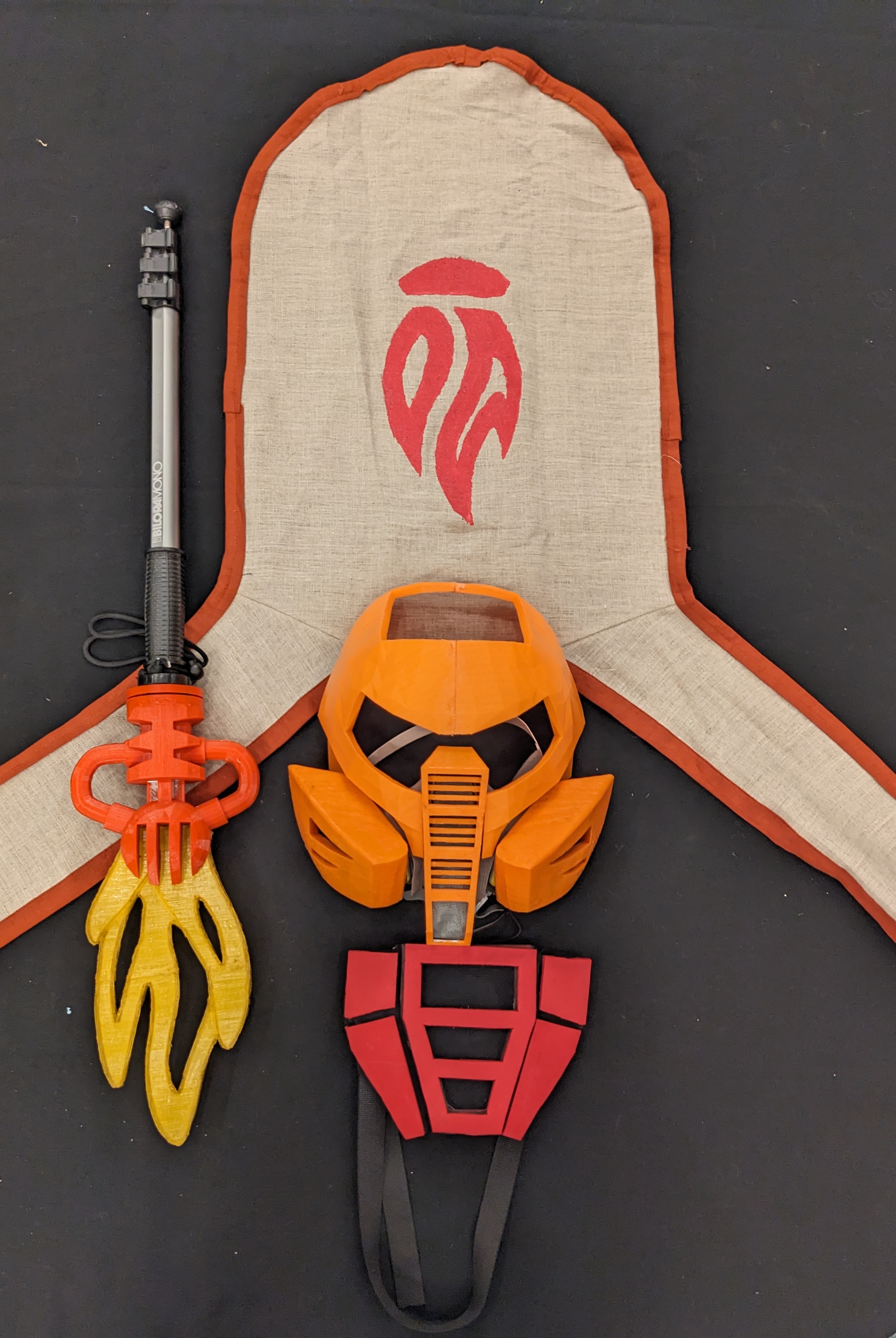 This costume comprises:
A 3M 6200 respirator with 3d-printed filter covers, exhalation filter, and faceplate
A breastplate with built-in loudspeaker, made of foam
A garment which is somewhere between a stole and a vest, with a flame symbol painted on the back
A staff with light-up flame, in the style of the Lego part 40342: Bionicle Weapon Long Axle Flame Staff 1x12
The hard parts of this project included:
Modeling the mask in a way that was recognizably Bionicle but was also compatible with a 3M 3200 mounting system — required a fusion of Turaga Vakama's Noble Kanohi Huna and Toa Mata Pohatu's Great Kanohi Kakama
Finding a Bionicle mask that could cover the P100 filters on a 3M 3200 — made much easier with BioSector 01's reference gallery of masks
Audibility — not really solved
Transportation of parts to events — solved with a heavily modular approach to construction, some duct tape, and a bottle of Gorilla Glue from a pharmacy in Winnipeg.
If you'd like to try your hand at making one, you can download the staff files from Thingiverse. I haven't posted the mask yet because I think it's not in a shape where it's fit for use by others.
This project would not have been possible without:
This project builds upon work done for my previous Utopian mask, specifically the outflow filter and the filter cover portions.
This project won "Judge's Choice in Novice Class" and "Best Use of Modern Tech" in the Masquerade at Pemmi-Con NASFiC 2023